Forest Bead Crafts Kit
17,90€ inc. Vat
Welcome Forest with NABBI BioBeads! In this kit, you will find everything you need for your Forest crafts with fuse beads. The bead kit contains approx. 1500 NABBI BioBeads in a Forest mix, ten patterns with instructions, ironing paper, and a click-together square pegboard (15 x 15 cm).
The patterns are of four different leaves, two mushrooms, a pumpkin, a hedgehog, a squirrel and an acorn.
Please note: do not iron NABBI BioBeads together with"regular" fossile or sugarcane plastic beads, as the NABBI BioBeads are much more sensitive to heat. An adult should always do the ironing.
Size: Medium (5 mm Ø)
Material: Biodolomer, a biodegradable material based partly on rapeseed oil. Sourced and made in Sweden.
Read more about NABBI BioBeads and the material Biodolomer here.
Product information:
Sustainable and safe. The CE-label guarantees that the products comply with the regulations set in the European Toys Directive (EN 71) and REACH (the SVHC list). The products also meet the Swedish National Agency for Public Procurement's sustainability criteria for toys and hobby supplies (project Non-toxic preschool by the Swedish Society for Nature Conservation).
Made in Sweden. The material is produced in Helsingborg and NABBI BioBeads in our factory in Uppsala.
The ironing beads can be fused together with a hot iron and baking paper, or hobby glue. See ironing instructions here.
Suitable for children above the age of five.
We recommend you to use reusable non-stick-bakingpaper when inroning NABBI BioBeads.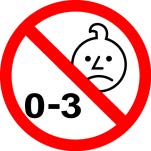 Warning: Choking Hazard. Small parts: Not for children under three years.
Dimensions: 18 × 4 × 20 cm