Treasured little ironing beads since 1958
Munkplast AB started the production of NABBI ironing beads in Munka Ljungby, Sweden, in 1958 – the original fuse bead. Back then, the beads were made of PVC. When we bought Munkplast in 1990, we changed materials to polyethene (PE), the most environmentally friendly material of the time. We still aspire to use as sustainable materials as possible. For this reason, we have now changed our production to create NABBI BioBeads – the same, classic ironing beads and pegboards, made of the biodegradable material Biodolomer.
Sustainable and locally sourced
NABBI BioBeads and BioPegboards are made from Biodolomer, a biodegradable material produced in Sweden. Biodolomer contains naturally occurring raw materials from the Nordic countries, e.g. rapeseed oil from Sweden and chalk from Norway. In our factory in Uppsala, Sweden, this is turned into NABBI BioBeads.
The material Biodolomer is used also for carrier bags. The materials manufacturer has let these be evaluated through an LCA (life cycle analysis). The life cycle analysis showed that the material has a lower combined effect on the environment than paper. Thanks to this, NABBI BioBeads are refreshingly eco-friendly.
Global warming potential (GWP)¹

¹The graph is derived from a life cycle analysis (LCA) conducted by the manufacturer of Biodolomer according to

Euro Life, EU Life 15 ENV/SE/000315.
The analysis is an impact analysis which compares carrier bags made out of Biodolomer, paper, sugar cane PE and fossil PE. Parts of the analysis are relevant also for other products.
Safe products
All NABBI products comply with the standards set in the European Toys Directive (EN 71), REACH (the SVHC list), and the Swedish National Agency for Public Procurement's sustainability criteria for toys and hobby supplies (project Non-toxic preschool by the Swedish Society for Nature Conservation).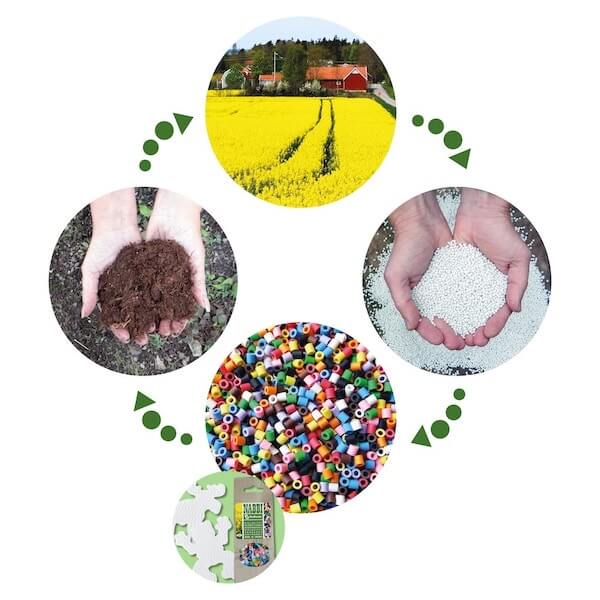 Hobby materials for creative children and adults
On top of being positive, sustainable news for the environment, NABBI BioBeads contribute to a positive development in children. Crafting with beads stimulates the imagination, encourages creativity, and helps develop fine motor skills.
The fuse beads can be used for more than just ironing. Together with, for example, hobby glue, wire, or sewing thread, they can be turned into a myriad of things. Some examples to tickle the imagination are pen holders, bracelets, or drink lids to keep insects with a sweet tooth out of your squash this summer. See all our products here.
NABBI BioBeads can be fused together with an iron or glued with hobby glue. All ironing must be done by an adult! We recommend that you use a reusable non-stick baking mat between the iron and the beads. Set the iron to medium to high heat and move it in a circular motion over your creation until the beads have melted together. For detailed ironing instructions, please click here.